At Accelera our core capability is business improvement and improving our clients' ability to innovate and disrupt their industry.
Get the best resources
Accelera has a library of free, market-leading guides and other resources business leaders can use to get ahead of change.
Visit Accelera's Resources page to find out more.
Accelera offerings
Accelera has a range of proven and established offerings for
Business-first approach
Don't let tech drive your strategy, let strategy drive your tech.
When you work with Accelera, you'll see that we take a business-first approach to your digital transformation.
Proven expertise
While strategy is fundamental, digital transformation is built on technology. And we have the tech expertise to deliver.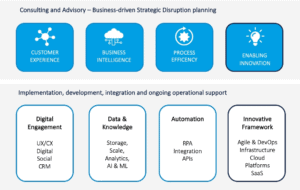 With proven IP in project management, delivery and implementation, we've got systems to ensure your transformation is implemented smoothly. And with a range of automation models, we make it easier than ever to embed innovation in your organisation.
Our 6-step Strategic Disruption Process ensures your transformation plan is anchored in strategy and designed to achieve your tangible business goals, both now and in the future.
Act smarter
Top-tier management consultants are often impractical for mid-size companies. Accelera provides a new way to get strategy-led digital transformation without the large price tag and extensive timelines.
We combine strategy with an agile approach and rapid delivery of outcomes that helps you implement your digital transformation – fast.
And with our fixed fee guarantee on consulting services, you'll only ever pay what we agree upfront. No scope creep, no ballooning costs and no surprises.
Get ahead of change and lead the disruption in your business, and your industry.