Getting ready for disruption sounds scary, but it's achievable with a sensible plan that focuses on 5 key corporate capabilities.
Far too many digital transformation projects try and help a company address disruption by focusing on technical outcomes. However, rather than focusing on the tech, which over time could become contestable or not so much of a differentiator for your market, we have found that by helping organisations with these five core capabilities, they can be set up for long-term resilience to the change required when disrupters hit the market. Even better, a number of simple steps often enable them to be the disrupters.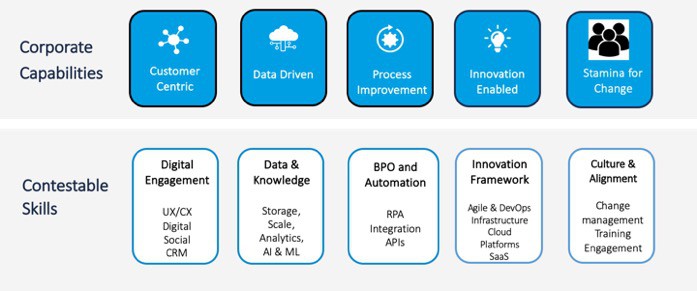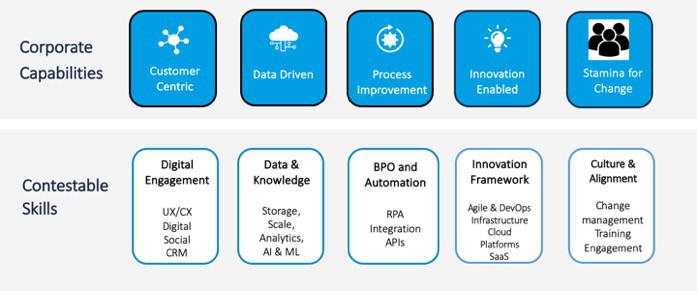 Become customer centric. Customer centricity has become a watch word in the digital age, but in many cases this only goes skin deep by driving outcomes that are purely technical gimmicks. A company which has the customer at the heart of everything they do ensures the customer is represented – through focus groups, advocates or select, friendly customers – when setting the strategy. This is then reflected in an end-to-end customer experience that is a delight to use, builds loyalty and advocates in the community, and establishes competitive advantage that is hard to overcome by newcomers on the basis of price and product alone.
Be data-driven. So many important business decisions are made in a relative vacuum of meaningful, actionable data. To allow decisions to be based on data, it needs to be collected, stored, and accessed in a way where insights can be visualised for easier decision making. Furthermore, live data feeds allow "checking in" on the decision against expected, demonstrable outcomes quickly, and changing course if things are not working well.
Focus on process improvement, then automate. While it is often the case that automation and process improvement are driven by cost pressures and attempts to reduce headcount, when process improvement is driven by better customer outcomes, top and bottom line improvements can be enjoyed, and growth can accelerate. Many organisations have large, heavy, embedded processes holding them back. The trick is to start on the small ones, consider what automation or digital platforms could be deployed, and keep up the pace of change on an ongoing basis. The most important approach to considering process improvement is often asking the question: "Why do we do it that way?"
Embrace and enable innovation. Customer centricity, and data-driven insights that direct major strategic decisions in your organisation will get you to a theoretical position of success. But that needs to be tested by building small, safe bets and trying them out to learn from the results, and iterating. An innovation mindset and framework needs to be pervasive, rather than just focused on an isolated lab or technology. It takes time, and courage, but the results in the organisation can drive exciting change that feels effortless. Many organisations' biggest hurdle to innovation is the fear of failure; changing that culture takes courage, but is hugely liberating.
Build the stamina for change. A digital transformation is often focused on a program of heavy lifting, centred around a series of major projects. It has a start and an end, with the expectation that a 'transformed state' is the endpoint, with nothing further to do. But to keep up with ever changing market and customer needs, the organisation's people need to be able to go through repetitive change without experiencing anxiety, disruption and disappointment. Once a few changes have been successful through clever and inclusive change management, the thirst for ongoing change will build, giving the organisation a 'spring in its step' as it continues to improve, lead and disrupt.
Don't get caught in technical detail
So many organisations boil a move to digital down to a number of underpinning technologies. Along with the need for technology decisions to consider an integrated, holistic approach to doing business without friction, the complexities that lie beneath each of these corporate capabilities are deep and require domain expertise. We have found that organisations that try and build all this expertise in house, or out of order with the corporate aspects, have a worse outcome than a strategy-driven approach that tests each technical choice against business outcomes needed to achieve corporate capability uplift.
Getting the management team on board
A common mistake is to have a large body of change handed to a transformation director or team, while the rest of the business carries on uninterrupted. It's nice in theory, because it would seem to manage any 'risk' by isolating the rest of the business from it. Isolation is the bigger risk, though; the more connected the whole organisation remains to the process of building core corporate capabilities that allow for disruption resilience or even leadership, the more successful the process is likely to be.
Anthony Woodward is founder and Chief Executive Officer of Accelera